In 1985 the company Extra Special with licensing from Hasbro came out with My Little Pony ceramic figures. There are believed to be 22 figurines in all plus one special offer. First Born was a special offer pony who was a free figurine with the purchase of 2 others porcelain MLP'S She had a rainbow sprawled across her fanny and the words "My Little Pony" as well. There are individuals ponies and scenes involving more than one pony. Each figure is marked with a gold horseshoe on the bottom, and an item #. They also came with paper tags.
Example of Glory's paper tag: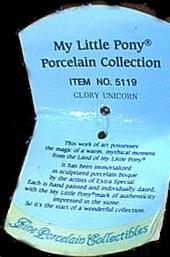 Below are the names, item numbers, and pics as best to my knowledge. I will update when I have more info.
Pic Wanted!
An Affectionate Moment

#????

Posey lying in a grass with Baby Blossom
Apple Orchard

#????

Tootsie and Baby Cotton Candy gathering apples in a bucket in a grassy base
Enchanted Kingdom

#????

Castle in the clouds with Baby Glory, Moondancer, and Sparkler
Frolic in the Sky

#????

Waterfall with Blossom & Pegasus Cherries Jubilee playing in the clouds.
Pic Wanted!
Lazy Afternoon

#????

Twilight in the grass with Baby Moondancer
Ponies' Play House

#????

Show Stable with Posey jumping over a fence, Bubbles eating an apple, and Baby Cotton Candy watching a bird on the roof
Pony Playmates

#????

Applejack and Peachy sitting together
Pic Wanted!
Wedding Prance

#????

Glory (groom) and Moondancer (bride) getting married
Wishing Well

#????

Applejack, Baby Blossom, and Bowtie